Product Features

Three Layer Fabric
The Contour Mask offers three layers of protection

Lightweight
The Contour Mask uses a lightweight fabric that makes it perfect for everyday use

100% Organic Cotton Lining • Pre-Shrunk
The Contour Mask has two inner layers are made with 100% organic cotton which has been pre-shrunk to eliminate shrinkage

Adjustable Loops
Adjustable ear loops for the best fit

Pocket for filter
Our masks have pockets for filters

Reusable & Washable

Contoured & Nose Strips
Nose strip included with purchase of masks. Designed to fit to your face

Moisture Wicking
The mask is made from a sweat-wicking polyester that keeps you cool and dry

Made From Recycled Materials
Made from recycled plastic bottles. Make your health and the planet a priority.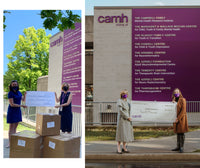 OUR MISSION
We are passionate about our front-line workers who are going in to work everyday to support our community. Let's help each other in this time of need!

For every mask sold, a portion of the proceeds will be going towards CAMH. Your purchase will help drive innovative research, better access to care and a shared understanding among all Canadians that Mental Health is Health.
Together we have donated over $55,000 to CAMH.